Engineering Excellence: ROSS Cylindrical Blender/Dryers
February 13, 2019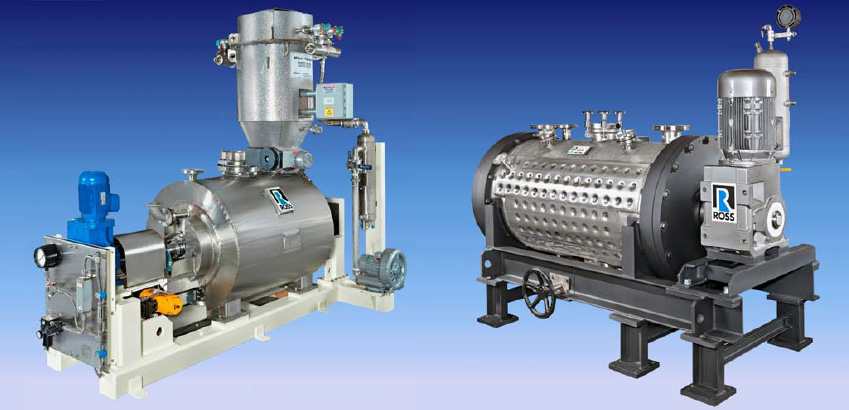 Advantages
Designed for extremely efficient and reliable drying. The combination ofthorough blending, deep vacuum and a baffled jacket that surrounds theentire cylinder and end plates enables rapid heat transfer.
Ross Cylindrical Blender/Dryers accommodate a wide range of feed forms: fromfree-flowing powders and pellets to wet granules and paste-like materials.
Rated for vacuum operation up to 29.5"Hg (10 torr absolute pressure).
Ideal for high temperature requirements up to 500°F. The gearbox and allbearings are located outside of the drying chamber and not subjected to thesame temperature as the materials being processed. This allows for easylubrication, simple maintenance and long service life.
General Features
Range of standard working capacities: 0.33 through 343 cubic feet
Rated for vacuum up to 29.5"Hg. Option: internal pressure rating up to 150 psi.
Baffled jacket rated for 50 psi or higher (hot water, oil or steam service). Jacketmay be ASME-stamped, if required. Insulation and sheathing also offered.
Choice of stainless steel 316, stainless steel 304, carbon steel or HastelloyAlloy C-276 wetted parts.
Standard models aresuited for product densitiesup to 30 lbs/cu.ft. Heavydutymodels are availablefor denser applications.
Type, size and location ofmanways, product inletconnections, samplingports, vent ports anddischarge valves are allcustomized for eachdryer.
Variable-speed ribbon, paddle or ribbon/paddle agitator.

The standard doubleribbon agitator is made up ofinner and outer helical ribbonsprecisely pitched to providevigorous lateral and axialmovement of the bulkmaterial.
A paddle-style agitator, onthe other hand, is ideal forgentler blending of friableand shear-sensitiveapplications.
Ribbon/paddle agitatorsoffer intermediate blendingintensity for products that arenot so friable but tend to bindbetween the agitator and thecylinder.

Ross Cylindrical Blender/Dryersare engineered via FiniteElement Analysis (FEA) to veryaccurate tolerances toaccommodate shaftexpansion during processingat high temperatures.
Choice of TEFC, explosion-proofor washdown-duty motor.
Controls
Ross SysCon Control Panels are built and wired to NFPA-79 and UL-508Astandards. Choice of any NEMA enclosure type to meet any application orenvironment. Integrated PLC Recipe Controls for the dryer, heater, vacuumpump and other ancillary equipment can be supplied.
| | |
| --- | --- |
| NEMA 4X Control Panel with user-friendly colortouchscreen interface. This washdown-dutypanel includes an Emergency Stop button, fanshrouds for cooling, main power disconnectwith lockout/tag out, fuse protection for allmotors and a single point power hook-up. | As an option, Ross PLC Recipe Controls canbe accessed from multiple internetcapablemobile devices. For addedconvenience, they may be programmed toautomatically send text or e-mail regardingoperating status and alarm notifications. |
| NEMA 12 Control Panel with CustomizedSCADA (Supervisory Control and DataAcquisition) Package designed forautomatic data logging. Such a systemprovides enhanced monitoring andrecordkeeping for complete batch-tobatchtraceability. | The above NEMA 7&9 Explosion-proof OperatorStation (left) combines the efficiency of a colormonitor to display multiple variables and theconvenience of pushbuttons for operatorswearing gloves. Variable Frequency Drives aremounted inside a NEMA 12 Power Enclosure(right) for installation in a non-hazardous area. |