Engineering Excellence: ROSS PreMax Batch Ultra-High Shear Mixer
February 27, 2019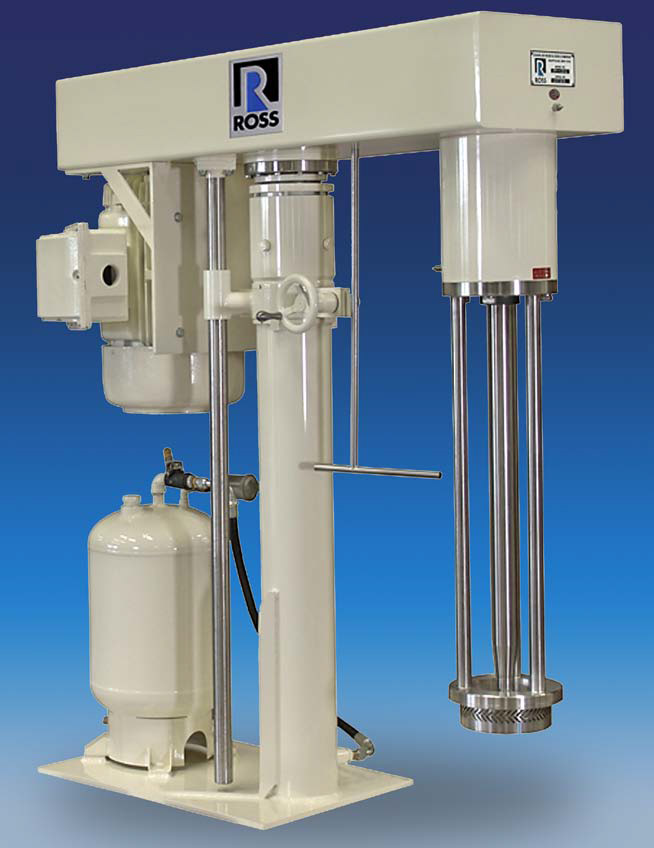 The PreMax`s high-flow design enables product entry from the top and bottom of the rotor/stator assembly. It generates both upper and lower vortexes which allow for extremely efficient powder additions.
Benefits:
Fast powder wet-out - no floating powders.
Accelerated dispersion or emulsification.
Uniform batch temperature.
Highly superior dispersions compared to all other batch style mixers including high speed dispersers, traditional rotor/stators and immersion mills.
Produces results comparable to one or two passes through a media mill.
Features Include:
True "Heavy Duty" Design
Inverter-capable, TEFC or XP high efficiency motor. (UL/CSA/EPAct-rated)
Control options include: NEMA 1, 4X, or 4/12 Variable Frequency Drive; Explosion-proof Operator Station with On/off Pushbutton, Speed Potentiometer, E-Stop, Digital Amp Meter and Tachometer.
Stainless steel anti-rotation bar.
Explosion-proof safety limit switches prevent operation of mixer while in the raised position or without a mix vessel in place. (UL/CE/CSA-rated)
Heavy pre-drilled base for floor mounting.
Air/oil Lift System with ASME CODE pressure vessel and manual controls.
Hard-chromed and polished hydraulic cylinder with adjustable and replaceable chevron style packing.
Stainless steel 316 wetted parts.
Non-stainless steel exterior surfaces are painted with Ross-white, high quality two-part epoxy coating.
Stellite rotor shaft bushing (standard). Optional bushing materials are available, i.e. PEEK, tungsten carbide, etc.
Patented Delta rotor/stator. Tip speed: 5,000 fpm, Viscosity range: Up to 50,000 cP

Optional Features:
Temperature Probe A thermocouple can be installed in one of the agitator frame rods. Thermocouple leads are run to a NEMA 12 or 7/9 junction box on the back of the mixer.
Disperser Blade An interchangeable saw-tooth disperser blade can be supplied with the PreMax for operational flexibility.
Vacuum Cover and Vessel A vacuum cover with charge port and mechanical seal mates with a mix vessel and can be supplied with a vacuum pump assembly. Different size vessels are available depending on the PreMax model.
Solids/Liquid Injection Manifold (SLIM) This powder induction system enables operators to add solids sub-surface. Powders are loaded into a hopper (or drawn from the bulk container using a "hose & wand" attachment) and as soon as the Delta rotor reaches operating speed, the SLIM valve is opened to allow the flow of solids into the shear-intense region within the rotor/stator assembly. Powders are quickly drawn into the batch via the powerful vacuum generated by the Delta rotor.