ROSS Inline High Shear Mixer Solves Spray Dryer Clogging Problems
April 3, 2019
BACKGROUND: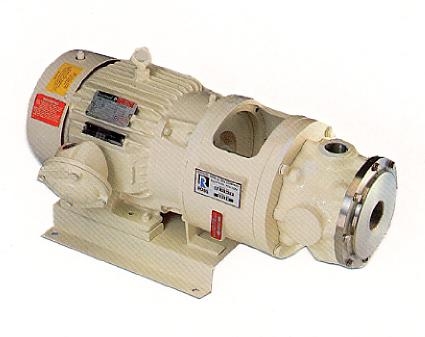 A major chemical company produces a catalyst for use in internal chemical processing. This catalyst includes a mixture of silica and metallic salts and is manufactured in a 2500 gallon reactor. The catalyst solution is 40% solids, has a specific gravity of 1.2 and a viscosity of approximately 100 cps.
PROBLEM:
To dry the catalyst, the fully reacted catalyst stream is pumped to a spray dryer. The spray dryer nozzles clogged frequently and needed to be disassembled every day for cleaning.
Initially it was thought that the clogging was due to the settling of solids in the reactor. A propeller agitator was added to the reactor, which solved the settling problem, however, the spray dryer was still clogging daily.
SOLUTION:
A Ross Inline High Shear Mixer Model HSM-405 was installed at the outlet of the reactor. The catalyst stream is exposed to the high shear conditions of the High Shear Mixer as it leaves the reactor and then it is either recirculated back into the reactor, or sent on to the spray dryer.
Any catalyst agglomerations that potentially can clog the spray dryer nozzles are broken down as they pass through the rotor/stator interface. The HSM-405 can turn over a 2500 gallon batch in approximately 16 minutes at 150 gpm.
The HSM-405 incorporates a slotted stator head and a flushed double mechanical seal to handle the abrasiveness of the catalyst stream.
Before the installation of the HSM-405, the spray dryer required daily cleaning. Now, with the Inline High Shear Mixer, the spray dryer can run for over two weeks without cleaning.
An added benefit of using the HSM-405 is its particle size reduction capabilities. The catalyst now has increased surface area yielding a more effective end product.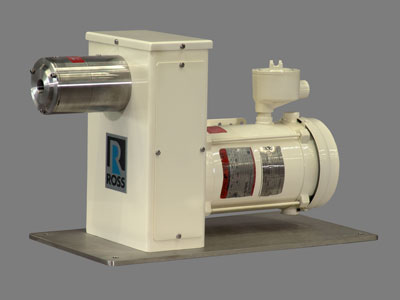 MIXER SPECIFICATIONS:
The Inline High Shear Mixer used for this catalyst deagglomeration application has the following specifications:
5 HP, 230/460 volt, 3 phase, explosion proof motor
AC variable frequency inverter for variable speed operation
Slotted stator head
Double Mechanical Seal with Carbon/Tungsten Carbide faces for operation to 90 psig.