ROSS VersaMix for Molten Metals
October 31, 2022
Challenge
Large-scale processing of molten metal slurries with melting points above 350°F (180°C). The product is explosive with moisture, and capable of reactions with oxygen, carbon dioxide, and a variety of other elements - including nitrogen - at room temperatures.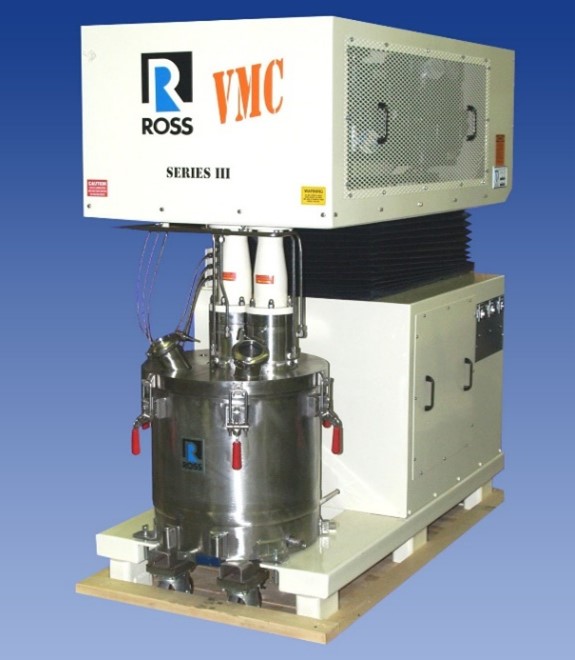 Solution
Our skill in designing equipment to individual process requirements is demonstrated by a customized ROSS VersaMix model VMC-15, jacketed for temperature regulation, and engineered for complete vacuum operation.
Due to the high process temperatures required for this application, the agitator shafts all have double mechanical seals. A 25-gallon liquid reservoir, pump, and heater are included in the seal support system.
The homogenization system consists of two top-entering agitators: a Three-Wing Anchor driven at 19-112 rpm by a 3 HP motor and a bushingless High Shear Mixer (rotor/stator) driven at 900 - 4800 rpm by a 5 HP motor. The rotor/stator is interchangeable with a 4.5" diameter High Speed Disperser Blade. Both motors are explosion-proof (Class I, Group B, Div. 2) and suitable for 230/460 VAC, 3phase, 60 Hz.
The VMC-15 is a 'stretched' version of the VMC-10. A custom built extra-tall mixer was required to assure formulation integrity and batch-to-batch consistency. The greater head space allows the user to mix 5 gallons of product without splashing molten metal which could freeze and clump on the non-jacketed cover.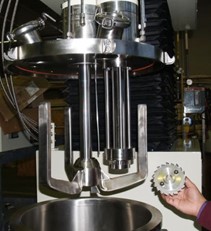 Three-Wing Anchor Agitator and bushingless High Shear Mixer (interchangeable with High Speed Disperser Blade).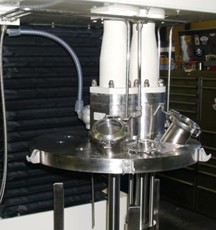 The special double mechanical seal system makes use of high temperature oil suitable for up to 410°F and 5psi (internal).
All product contact parts are type 316L wetted stainless steel. The mixer is designed for vacuum operation (up to 29.5" Hg) and 5 psig internal pressure. To manage temperature, the dished-bottom mix container features a stainless steel jacket on the sides and bottom, rated for 50 psig. A 1" manually actuated flush tank ball valve with tri-clamp outlet connection is mounted to the vessel's bottom front for product discharge. The mixer cover, also SS316L, includes two 3" sight/charge ports, four NPTF openings and a thermocouple probe with Type K element.
The control system, supplied by Ross SysCon, is enclosed in a NEMA 4 Type Z gas-purged panel. Variable frequency drives for the agitator motors are mounted within, as well as the motor starter and heat contactor for the seal support system. The panel includes digital speed and load indicators, temperature readout, Start/Stop buttons, Emergency Stop button and speed control dials.