Tech Report
Best practices for safe and efficient three roll milling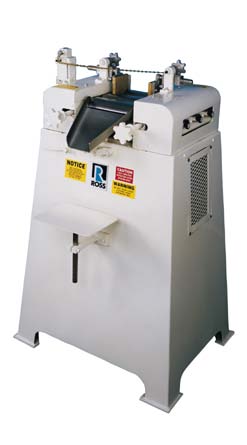 Technology Brief
The three roll mill remains to be one of the best methods for preparing very fine particle dispersions. This bulletin discusses some best practices to help users operate the three roll mill safely and efficiently.
Theory of operation
A three roll mill is composed of three horizontally positioned rolls rotating in opposite directions and at different speeds. The material to be milled is placed between the feed and center rolls and gets transferred from the center roll to the apron roll by adhesion.
The shear forces between adjacent rolls generate the dispersion. Decreasing the distance between rolls produces greater shear but also reduces throughput. Gap settings in the range of 0.001" are common.
Milled material is scraped from the apron roll by a take-off knife. The cycle can be repeated to improve dispersion or until particle size equilibrium is reached.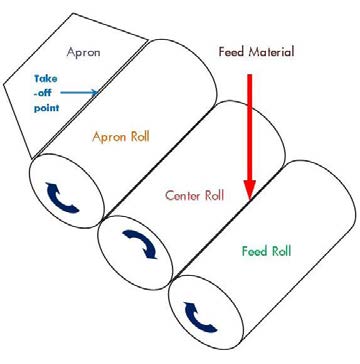 The three roll mill is a classic technology with inherently low throughput and requires a skilled operator but it remains to be one of the best methods for preparing very fine particle dispersions in paints, inks, cosmetics, ointments, dental composites and other viscous materials.
Some best practices in three roll milling
The three roll mill is normally supplied completely assembled. When removing the mill from the shipping container, take special care to prevent marring the working surfaces of the rolls. Unblemished roll surfaces are critical to the proper functioning of the mill.
Before the mill is operated, it should be bolted in place. A solid base is required, especially for production size models. When the mill is leveled and bolted in place, wiring and installation of electrical control components must be done by a qualified electrician.
The apron`s take-off knife has a sharp cutting edge and should be handled with care. When correctly positioned, the knife is contacting the roll just above the centerline and is perfectly parallel to it.
Perform testing to determine the ideal gap setting for your specific product in order to maximize throughput without sacrificing dispersion quality.
Do not run the mill dry. When product has almost run through, open the rolls and disengage the apron.
Do not wear loose articles of clothing or any accessories that can get caught in the rolls.
Roll journals are equipped with ball or roller bearings. It is good practice to lubricate the bearings on a monthly basis.
Sample Application: Thick Film Inks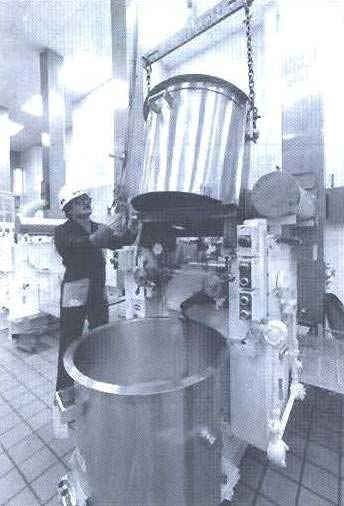 At a Dupont electronics facility, thick film paste is batched in a Ross Double Planetary Mixer. After the mixing cycle, the paste is weighed and transferred to a Ross Three Roll Mill.
A first pass is performed with the feed roll set at 0.002" and the apron roll at 0.001". Depending on the formulation, multiple passes may be performed. Rolls can be heated or cooled, as desired.
After milling, the final product is subjected to a grind gauge reading which cannot exceed 50 microns.