Tech Report
Improve your extrusion process with a static mixer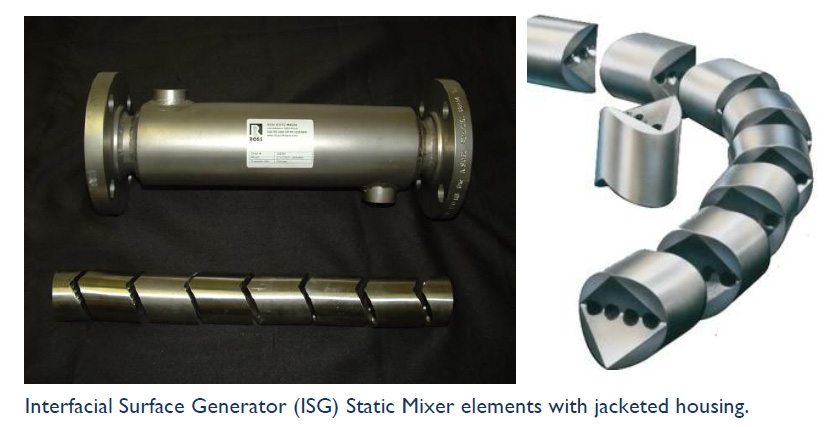 Technology Brief
Interfacial Surface Generator (ISG) Static Mixers are particularly ideal for use in injection molding and extrusion applications. Benefits include uniform temperature and viscosity, accurate composition and highly repeatable quality of the finished product.
Role of static mixers in extrusion processes
Static mixing is proven to improve the quality of injection molded and extruded products. The molten material is pumped through a series of static mixer elements installed within the nozzle just before the die assembly. This offers several advantages including thermal homogenization, uniform viscosity and density, enhanced mixing of colors and minor additives, efficient use of all raw materials, elimination of streaks or clouds in the finished product, consistent quality and higher yield (less rejects). Within a very short length of pipe, the static mixer is able to correct various inconsistencies in the extruded stream.
Interfacial Surface Generator (ISG) Static Mixers
The Ross Interfacial Surface Generator (ISG) is one of the most widely used static mixer designs in injection molding and extrusion applications. The ISG (US Patent No. US3404869) consists of solid elements bored with four holes which provide the flow paths for the process fluid. The elements are machined to a precise shape such that they can be stacked and form a sealed tetrahedral chamber between adjacent elements.
Mixing is obtained in the ISG elements via division of the input stream(s) into sub-layers, recombination of these sub-layers into a main stream and subsequent division, repositioning and recombination, so on and so forth. For instance, if two input streams enter the ISG static mixer, the number of layers emerging from the first, second and third elements are 8, 32 and 128. This exponential progression generates over two million layers in just 10 elements.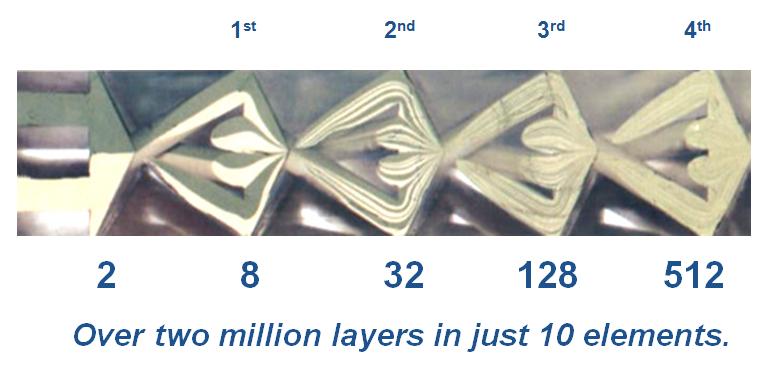 Cleanability and easy maintenance
The ISG is ideal for extrusion service not only in terms of mixing performance but also because the removable elements are easy to dismantle from the housing and can be cleaned individually. A set of 5 or 6 ISG elements is typically used in the production of injection molded and extruded products.
ISG Static Mixers installed within an injection molding nozzle

ISG Static Mixer elements are offered from 5/8" to 6" diameter. They can be supplied as a complete module including a mixer housing with retainers (choice of flanged or threaded end fittings) or as loose elements for mounting within an extruder nozzle or existing pipe.