Tech Report
Recommended Mixing Equipment for Specialty Inks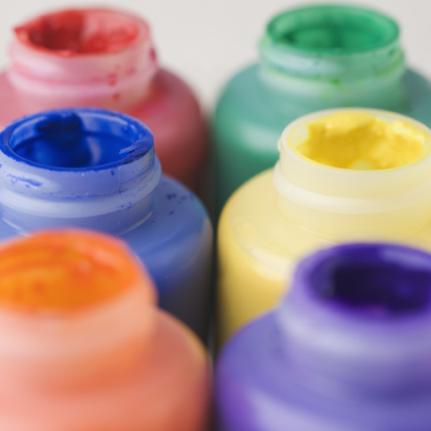 Technology Brief
Specialty inks have become a staple in modern packaging, lending added appeal, security and functionality to products in ways that traditional inks could not achieve. From the thermochromic, glittery and metallic, to the fluorescent, color-shifting, and conductive kinds, specialty inks and coatings are typically customized for a specific brand or application and come in different colors, solid loadings, particle sizes, viscosities and print methods.
The mixing technologies utilized in the production of specialty inks vary from one custom formulation to another. Mixer selection is based on a number of factors but primarily viscosity profile and shear input.
Ross High Speed Dispersers and Planetary Dispersers
Standard workhorses in the manufacture of traditional inks, Ross High Speed Dispersers are also well-proven in the processing of specialty inks, coatings, varnishes and primers. Turning at tip speeds up to around 5,000 fpm, the saw-tooth blade of the High Speed Disperser generates a deep vortex on the liquid surface into which dry powder ingredients are added. Large and loose agglomerates are disintegrated by the disperser accompanied by an increase in viscosity (typical maximum for this machine is in the range of 50,000 centipoise). The resulting mixture is then fed to downstream milling equipment for the polishing step where stubborn agglomerates are broken down to achieve a finer grind.
Ink formulations that undergo viscosity peaks as high as 2 million centipoise are more efficiently produced in a Ross PowerMix Planetary Disperser (US Patent No. 4,697,929). This technology combines the thorough kneading action of a planetary mixer with the high speed mixing power of a disperser. Unlike conventional dispersers which turn from a fixed axis of rotation, the saw-tooth blade(s) in a PowerMix moves around the vessel and contacts fresh product all the time. The planetary stirrer orbits the mixing zone as well, constantly turning over viscous batch material and dissipating heat created by the high speed blade(s). As a result of this robust agitation capability, the PowerMix is very effective in wetting out solids and creating a very fine dispersion virtually regardless of product rheology.
Ross Equipment used in the Inks, Paints and Coatings Industries:
High Speed Dispersers
High Shear (Rotor/Stator) Mixers
Ultra-High Shear Mixers
Powder Injection Systems
Multi-Shaft Mixers / Reactors
PowerMix
Planetary Dispersers
Double Planetary Mixers
Discharge Systems
Kneader Extruders
Static Mixers
Three Roll Mills
Vacuum Drying Systems
Some mixing tips:
Mixing under vacuum helps to produce void-free inks for easier and more uniform application onto any substrate. Vacuum mixing also improves shearing and dispersion, such that the liquid binder encapsulates mostly primary particles of pigments and other solids, rather than their aggregates.
Order of raw material addition affects finished product quality and must be considered during mixer selection.
Certain pastes and slurries that require enhanced levels of hydraulic shear may be processed in an Ultra-High Shear Mixer to potentially eliminate downstream milling or at least reduce the number of mill passes. Testing is recommended to confirm the most efficient mixing strategy for a particular ink formulation.