Tech Report
Turnkey mixing systems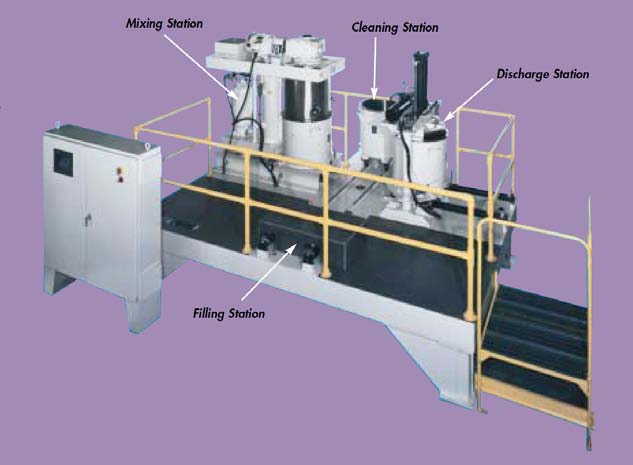 Technology Brief
Turnkey systems range from simple laboratory mixers equipped with one or two auxiliary equipment to more complex packages capable of high speed, multi-recipe production. It helps to work with an experienced supplier capable of providing a full range of testing, engineering, design and manufacturing services.
Advantages of turnkey systems
Turnkey mixing systems integrate the operation and controls of the mixing step along with other procedures surrounding it: product loading, heating/cooling, deaeration, discharge, transfer, clean-up, etc. The entire package is engineered by and sourced from a single supplier. Simple systems can consist of a standard mixer configuration equipped with one or two auxiliary equipment. With more complex systems, an engineering firm is normally contracted to work with various vendors and design an arrangement that adapts to the end user`s specific process requirements. Advantages of turnkey systems include seamless project management, reduced installation time, centralized utilities and single source responsibility, among others.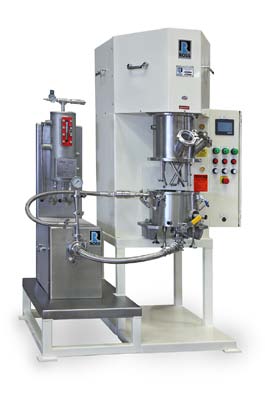 Simple turnkey packages
At the simplest level, laboratory or pilot-scale turnkey mixer systems typically include mechanisms to weigh raw materials, heat/cool the product during mixing, pull vacuum or inject inert gas, recover solvent vapors, and/or discharge the finished mixture. The temperature control unit, vacuum pump, load cells, condenser, discharge system, recirculation pumping, controls and other applicable hardware can be installed on a common bench or skid for portability.
Fast, streamlined large-scale production
Turnkey systems designed for large-scale, continuous or semi-continuous production may, in addition to the previously mentioned auxiliary equipment, involve automatic feeders and metering pumps, multiple vessels, clean-in-place manifolds, filter assemblies, inline transmitters to measure viscosity, density, flow rate, etc., pneumatically-operated valves, integrated recipe controls and many others depending on the process requirements.
Partner with a trusted supplier
When looking to acquire a turnkey mixing package, work with a reputable equipment manufacturer to take advantage of that company`s collective experience. At the heart of the process is reliable mixing which can be achieved more readily if the supplier has a fundamental understanding of your mixing application, from the raw materials, familiar challenges and processing objectives. Apart from providing testing, engineering, design and manufacturing services, a well-established supplier can share mixing insights, cost-effective solutions and best practices gained from years of experience.
Installation Snapshot:Bulk Bag Dilution/DispersionSkid System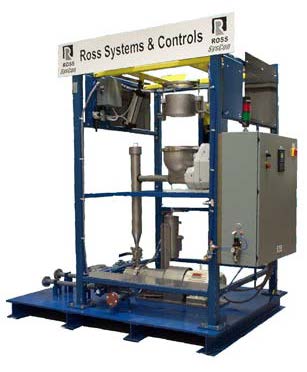 This turnkey system features an inline high shear mixer equipped for high speed powder induction. The unique rotor/stator assembly generates a powerful suction that draws powdered ingredients into the mix chamber where they meet the incoming liquid stream and are dispersed instantaneously. A dust-tight bulk bag system, volumetric screw feeder and ball valves with pneumatic actuators are supplied for continuous addition of solids, synchronized with the induction rate of the rotor/stator mixer.
A PLC system controls all feed, mix and wash cycles. The design allows for single point utilities: three phase electrical, compressed air, raw liquid feed pipe, mixture discharge and drain. The skid platform is supplied with fork channels for easy transport to multiple mixing stations.